Ultimate Transmissions is the world leader in the design of "Double Roller Full Toroidal Variators" or DFTV the control method called "Direct Roller Steering" or DRS, and the application of these designs and methods to Infinitely Variable Transmissions or IVT.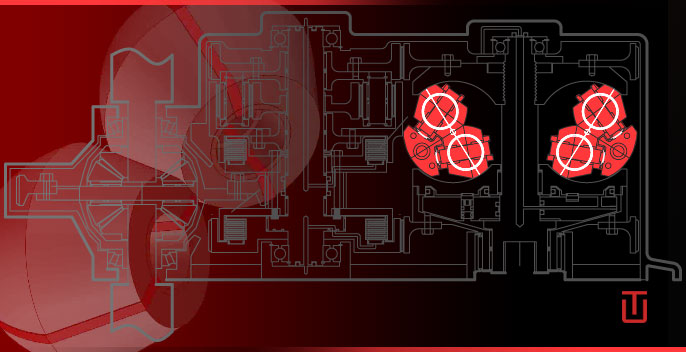 Ultimate Transmissions has been formed to promote Toroidal Variators as a viable form of CVT primarily using the DFTV concept.
We can manage the design and development of Single Roller or Double Roller, Full Toroidal Variator based transmissions using or incorporating
DRS as a more stable control method and more efficient method than the existing castor angle approach adopted by Torotrak.
DFTV using the more efficient double roller configuration.
Application of the DFTV to transmissions incorporating split power secondary gear systems such as IVT (with geared neutral), Hybrid power, or enhanced ratio spread using secondary gear sets.


---
Ultimate Transmissions is led by a senior management and technical team backed up by outsourced professionals.

Brendan Graham is a qualified executive with first class credentials, holding a Bachelor in Mechanical Engineering, Masters in Business Administration and membership to Australia Institute of Company Directors.
He has worked with Boards to lead group wide change, restructure businesses, turnaround struggling enterprises and provide the people, strategic and change leadership necessary for growth. He has a history in evolving new businesses models and product/service offerings, is adept at identifying and capturing new and profitable markets and possesses a core strength in steering the development and implementation of tailored, technically enabled solutions, addressing specific customer needs. International experience encompasses joint ventures and projects in China, Japan, UK and the Oceania region.

As a "hands-on" business leader Brendan has a track record of success in profit achievement and the delivery of corporate goals, both financial and organisational - across manufacturing/marketing, contracting and service organisations.

Michael Durack is the inventor of the DFTV and the DRS technologies. He is the majority owner of Ultimate Transmissions and of all of its technology patents.
He is a qualified Architect and Engineer and lives in Australia.
He brings with him a distinguished engineering and technological background, mostly in the development of construction materials and manufacturing machinery, with over forty years of experience.
He has been involved in some of the largest construction projects in South East Asia as project manager or CEO. He has designed promoted and brought to market new building materials, and methods and machinery that make them, from inception to distribution or licensing globally. He has been continually involved in the development of new and patented machinery and processes before and since, completing his university studies.

Richard Haigh joined Ultimate Transmissions in 2009 from Jaguar Land Rover Asia Pacific Co., Ltd. where he was Managing Director.
Richard has an economics and marketing background and lives in Thailand. He speaks English, French, and some Thai.
He has over thirty years of experience in the motor vehicle industry, working operationally in Africa, Europe and Asia Pacific for Rover Group, BMW-Rover, Jaguar Land Rover and Volvo He has established new business operations in developing markets in both Europeand Asia Pacific. He has acted as an operational Director for BMW-Rover and as Managing Director, for subsidiaries of Jaguar Land Rover and Volvo in Thailand, Taiwan, Europe, and more recently the Asia Pacific region.
Richard reports directly to Michael Durack and leads the effort to globalize Ultimate Transmissions technology and services. He has a detailed understanding of, and long time links with automobile consumers, car manufacturers and tier 1 component suppliers, and a thorough understanding of automobile culture.

Professor Malcolm McKay is an independent consulting engineer. He joins Ultimate Transmissions bringing with him over 35 years of engineering experience in both the public and private sector. For eight years he was Professor and Deputy Vice Chancellor at the University of Southern Queensland heading up the university's research effort. Approximately equal amounts of his career have been spent in academia and business. Malcolm specializes in bringing innovative research outcomes to the market with significant experience in mechanical design for agricultural machinery and heavy transport as well as structural applications for fibre composites. He has worked in Europe, North America and throughout Asia in addition to Australia.
Professor McKay has been very active within the mechanical engineering profession both in Australia and internationally. He has been the national chair of the College of Mechanical Engineers as well as the national chair of the Society for Engineering in Agriculture. He is also an executive member of the Club of Bologna, considered to be the most prestigious invitation-only organisation for agricultural mechanisation experts worldwide.

Doctor James Durack is a highly regarded design engineer. His forty year career has been split nearly equally between consulting engineering, research and university teaching. He is an expert in the design of large mobile machines for bulk materials handling. He has a particular interest in dynamics, the interaction between control systems and machine safety and the general area of design by advanced analysis.